Club Profile
The city of Cambridge needs no introduction - famous for its history, University and beautiful buildings. What may be less well known is that it has a thriving woodturning club.
Origins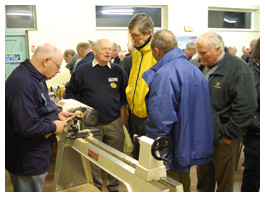 Founded in 2000 with only twenty members, Cambridge Woodturners has seen a steady and continuous rise in membership with some of the original members still being regular attendees at Club meetings. Being an Affiliated Branch of the Association of Woodturners of Great Britain (AWGB) allows the members to take advantage of all the benefits available including discounts and insurance.
The Club objective is simple: to promote woodturning within and outside the Club. The old hands are always willing to give advice to the newer members and often prove the old saying - ask 10 woodturners how to do something and you'll get 11 different answers!
A Growing Membership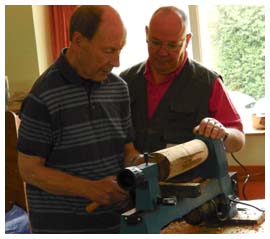 Club membership currently stands at around sixty, spanning a wide spectrum of abilities from veterans to novices but all with a common enthusiasm for woodturning. We continue to welcome new members, many of whom are beginners, reflecting a growing interest in the craft scene in general and woodturning in particular. If there are specific areas of membership the Club would like to see grow it is those of younger turners and lady turners. For some reason, as in many Clubs, members tend to be male and older - maybe reflecting the tendency to take up this craft in retirement and reinforcing the perception that this is generally a male preserve.
The Club prides itself on its friendly atmosphere. We have designated meeters and greeters to make new members feel at home and introduce them to others. They are encouraged to take part in the activities, for instance the monthly competition and hands-on sessions, the latter being of real value to those with less experience.
Activities
An interesting and varied monthly programme includes demonstrators from outside and within the Club and hands-on sessions with several lathes.
The Club has introduced an annual all-day training workshop for novice members. Held on a Saturday, the day gives novices a chance to obtain hands-on experience under the guidance of experienced members. Limiting attendance to six novices, ensures each attendee can derive maximum benefit from a concentrated day's turning. Feedback has been very positive and in 2018 the day expanded to cover topics such as finishing techniques as well as turning itself.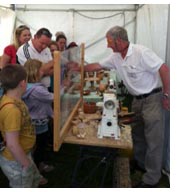 Every month the club has a competition, designed for everyone to enter. Entries are judged on design and finish so it does not matter whether the item is large and complex or small and simple. Topics so far have included platters, bowls, two-part hollow forms, boxes and other items suitable for all levels and experience of wood turners.
The Annual Competition provides the opportunity for members to really show off their skill and produce a subject of their own choice. The quality of the work displayed is testament to the high standard of the work of Club members and to the development and improvement of new members.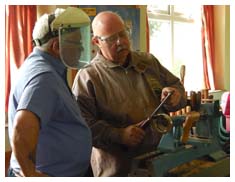 Club members also demonstrate woodturning at local events. We have had stalls at the Cambridgeshire County Show at Wimpole Hall and also participated in several smaller local shows. These have included the Cambridgeshire Steam Rally and Craft Fair, the Ashwell Show, Chesterton Festival, Cherry Hinton Festival and the Wandlebury Wood Fair.
We are regular participants at English Heritage's popular annual Audley End Apple Festival where we are recognised as a prime attraction in the Craft Marquee. The stand is always surrounded by a large crowd of fascinated parents and children watching as members make small items on their lathes, such as spinning tops and little hedgehogs, and give them away to the youngsters!
We are always on the lookout for more local shows where we can promote woodturning in general and the Club in particular.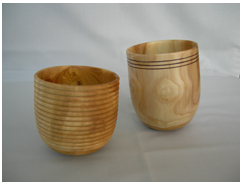 Towards the end of 2016, the Club completed a project for Trinity College using mulberry wood from an old tree that the College gardeners had reduced in size after some of its branches had fallen down. A dozen or so members made an item or two from the wood; the top five were chosen in a Club competition and offered to the College for display in the Master's Lodge. A couple of items - complementary vessels by Colin Smith are shown left. Others can be seen on our Gallery page.
In 2013, the membership voted to nominate a chosen charity, on an annual basis to receive the donations made in return for the spinning tops and other fundraising activities throughout the year. For 2019, the Club chose East Anglian Air Ambulance, the charity which saves lives across East Anglia.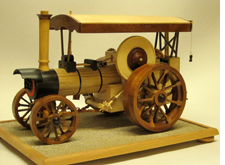 In 2018 the Club entered a competition run by the AWGB to build a wooden model tractor. The team of Bill Lewis, Bill Maughan, Colin Parr, Gordon Hannah and Ian Gurr worked hard for many hours over several weeks being fortified by plenty of food and drink made by Bill Maughan's wife Pat. The team produced a magnificent steam tractor with several moving parts which turned out to be the winning entry! Judging took place at the AWGB National Seminar weekend when the winning team was announced. The Club/team donated the prize money to East Anglia's Children's Hospice (EACH).


More Information and Contacts
Club meetings are generally on the first Thursday in the month and visitors are assured of a warm welcome.
Please contact the Club Secretary for more information.